Mother Goose's Protest by Jane Campbell, 1888
Item
Title
Mother Goose's Protest by Jane Campbell, 1888
Description
A poem by Jane Campbell written in response to a discussion held at the New Century Trust regarding helpful books.
Creator
Campbell, Mary Jane, 1865-
Is Part Of
New Century Trust records (3097)
Subject
New Century Trust | Campbell, Jane. Mother Goose's protest | Campbell, Mary Jane, 1865-
Rights
Rights assessment is your responsibility. This material is made available for noncommercial educational, scholarly, and/or charitable purposes. For other uses or for more information, please contact The Historical Society of Pennsylvania's Rights and Reproductions department at rnr@hsp.org.
Item sets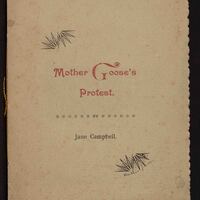 17912-3097_b76f12_0001.jpg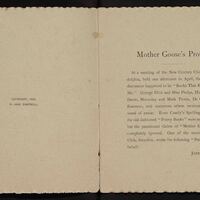 17912-3097_b76f12_0002.jpg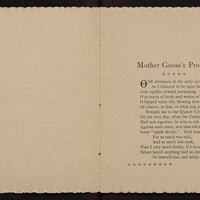 17912-3097_b76f12_0003.jpg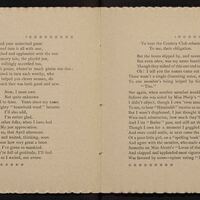 17912-3097_b76f12_0004.jpg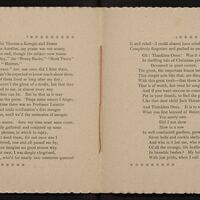 17912-3097_b76f12_0005.jpg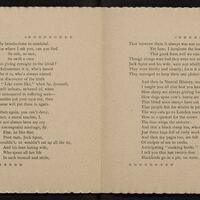 17912-3097_b76f12_0006.jpg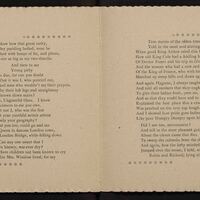 17912-3097_b76f12_0007.jpg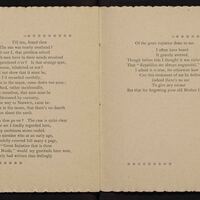 17912-3097_b76f12_0008.jpg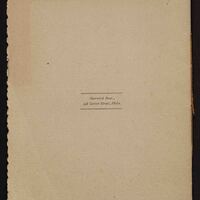 17912-3097_b76f12_0009.jpg
Image annotations