Cross section of torso, undated
Item
Title
Cross section of torso, undated
Description
A cross section of a torso with male reproductive organs. Various layers of muscle and tissue are removed, showing superficial and deep arteries.
Creator
Faber, Ludwig E., 1855-1913
Is Part Of
J. B. Lippincott Company records (3104)
Subject
Human anatomy | Human anatomy--Study and teaching | Muscles
Rights
This item is made available online for non-commercial, educational, and research uses. For more information, please contact Rights and Reproductions as rnr@hsp.org. Please note that rights assessment and appropriate use of materials is the responsibility of the person using this material.
Item sets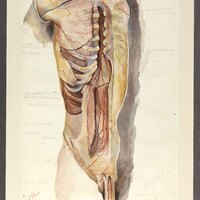 18842-3104_b20Bf4_0001.jpg
Image annotations