Heidi and Grandfather, 1915
Item
Title
Heidi and Grandfather, 1915
Description
This illustration, painted by Maria L. Kirk for Johanna Spyri's children's book Heidi, shows Heidi embracing her curmudgeonly Grandfather.
Creator
Kirk, Maria Louise, 1860-1938
Is Part Of
J. B. Lippincott Company records (3104)
Subject
Spyri, Johanna, 1827-1901 | Children's books
Rights
This item is made available online for non-commercial, educational, and research uses. For more information, please contact Rights and Reproductions as rnr@hsp.org. Please note that rights assessment and appropriate use of materials is the responsibility of the person using this material.
Item sets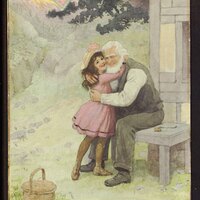 18851-3104_b18f4_0001.jpg
Image annotations