Pinocchio riding pigeon, 1919
Item
Title
Pinocchio riding pigeon, 1919
Description
This illustration, painted by Maria L. Kirk for Carlo Collodi's children's book Pinocchio: The Story of a Puppet, shows the puppet astride a pigeon flying over a verdant landscape.
Creator
Kirk, Maria Louise, 1860-1938
Is Part Of
J. B. Lippincott Company records (3104)
Subject
Collodi, Carlo, 1826-1890 | Children's books
Rights
This item is made available online for non-commercial, educational, and research uses. For more information, please contact Rights and Reproductions as rnr@hsp.org. Please note that rights assessment and appropriate use of materials is the responsibility of the person using this material.
Item sets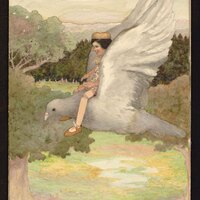 18852-3104_b18f8_0001.jpg
Image annotations