Mary Oswald's will, appointing Joseph Turner executor (1762)
Item
Title
Mary Oswald's will, appointing Joseph Turner executor (1762)
Description
As part of Joseph Turner's estate, Benjamin and Elizabeth Chew also became administrators of Elizabeth's mother Mary Oswald's estate, as she had appointed her brother Joseph Turner as one of her executors. Mentions a "lot of land containing about two acres and three quarters" in the Northern Liberties section of Philadelphia.
Is Part Of
Chew family papers (2050) | Box 44 | Folder 24
Subject
Slavery--United States--History |Chew family |Pennsylvania--History | Women--History--19th century
Rights
Rights assessment is your responsibility. This material is your responsibility. This material is made available for noncommercial educational, scholarly, and/or charitable purposes. For other uses or for more information, please contact The Historical Society of Pennsylvania's Rights and Reproductions department at rnr@hsp.org.
Item sets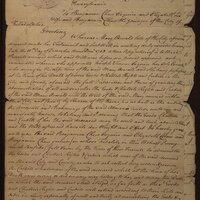 19134-2050_b44f24_0001.jpg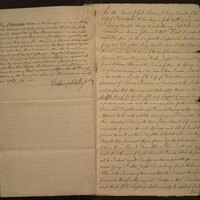 19134-2050_b44f24_0002.jpg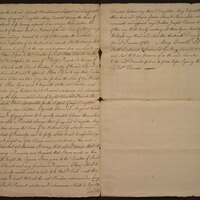 19134-2050_b44f24_0003.jpg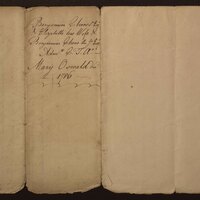 19134-2050_b44f24_0004.jpg
Image annotations