1977: "El Viaje" Begins on 90.1 WRTI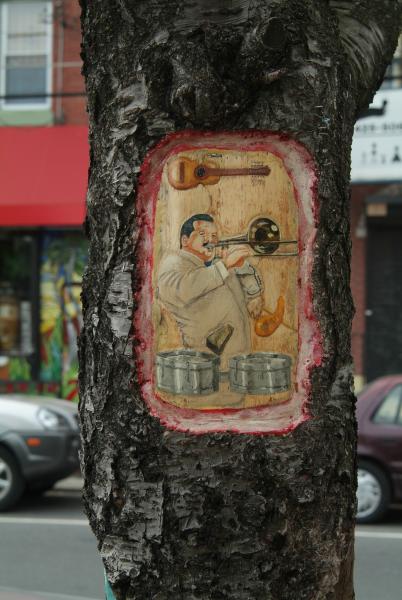 Tree Carvings by Robert Smith Shabazz, North 5th St.
Image from the Historical Society of Pennsylvania.
The WRTI radio program began as a fledgling AM station at Temple University in 1948. In 1953, five years after its founding, WRTI morphed into a licensed FM radio station, stretching beyond the confines of the university campus. WRTI today is an all-jazz radio station, a format that was adopted in 1969 and has developed into the 21st century. In 1977, with the introduction of the radio program "El Viaje," WRTI became the first—and only—FM station in the Philadelphia area to feature authentic Latin jazz, mambo, and salsa music. In 2019, David Ortiz serves as the host of "El Viaje," a position he has held for over thirty years. Ortiz, a Philadelphia native, was awarded Philadelphia Magazine's "Best of Philly" award in 1997 for his work with the show.
In 1999, rumors began circulating regarding the cancellation of "El Viaje," as well as a number of other WRTI segments. Almost immediately, the Latino and Puerto Rican community of Philadelphia responded with a petition campaign. Ortiz himself wrote a letter to Temple University's then-president, Peter Liacouras, while simultaneously appealing to Councilman Angel Ortiz and State Representative Juan Ramos in the name of "El Viaje" and all of its accomplishments. Through the perseverance of Ortiz and community listeners, "El Viaje" has continued to serve as a "mainstay" in the Latino community within the Philadelphia region. The radio show endures today as a one-of-a-kind platform from which Latino culture is shared throughout the city.
Written by McKenna Britton, a public historian living and learning in Philadelphia.
See the Spanish version of this page