1975: White Neighbors Firebomb the Santiago Family Home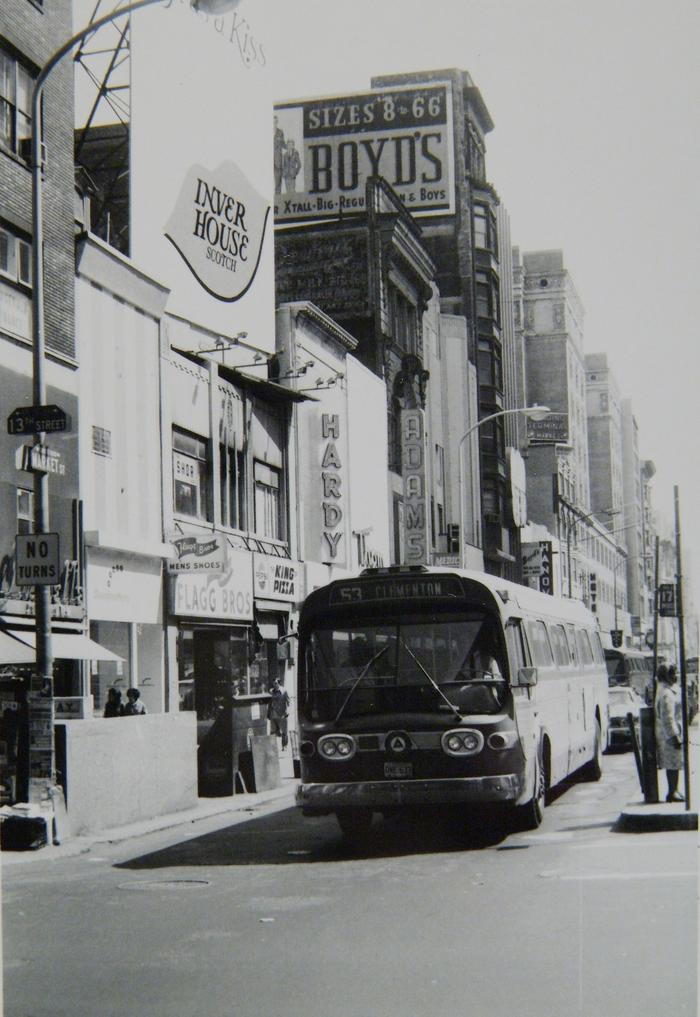 If you follow Market Street, as seen in this image, to the North, it intersects with North Fourth Street in Feltonville, the neighborhood where the Santiagos' home was.
Image from the Historical Society of Pennsylvania
In 1974, Radames and Ramona Santiago and their five children moved into a house on North Fourth Street in the Feltonville neighborhood of Philadelphia. This section of North Philadelphia was a primarily white German-Catholic neighborhood; however, in the 1960s and 70s, the neighborhood saw an influx of Puerto Rican residents who had been pushed out of Latino neighborhoods closer to Center City by the forces of gentrification. Throughout 1975, white residents attempted to kick the Santiago family out of the neighborhood. Neighbors sent an unsuccessful petition to Philadelphia's Human Relations Commission to have them removed, and in late September of that year, the Santiagos' car was firebombed. These efforts escalated further in the early morning of October 5, when a firebomb was thrown through the front window of the Santiagos' house while the family was asleep. Ramona, three of the Santiago children, and Luis Carrucini, the child of a family friend, died in the attack.
The attack prompted a wave of protests. Allies of the Santiagos gathered near the burned family home in the days following the fire. On October 10, members of the Puerto Rican community held a demonstration that Radames Santiago described as a "day of religion and mourning." The protest began with marchers circling Independence Hall. Eventually, a more militant faction of the group, which believed that the religious event did not bring enough attention to the racism that fueled the attack, marched to City Hall where they called for Mayor Frank Rizzo to face the crowd. Later in the month, members of the community, The Puerto Rican Socialist Party, and the Philadelphia Student Coalition Against Racism formed a protest committee. The committee planned a picket outside The Philadelphia Inquirer office on October 31 to protest racist coverage that blamed the Santiagos for the attack.
Reports that police had forced a false confession from one of the men initially accused of bombing the house, Robert Wilkinson, turned media attention away from the Santiago family during the trial. An investigation by The Philadelphia Inquirer revealed that the prosecution withheld a confession by one of the Santiago's neighbors David McGinnis and that interrogators had beaten or threatened at least seven people to get them to falsely testify against Wilkinson. In a retrial, the judge dismissed the charges against Wilkinson. The Inquirer reporting also prompted a federal investigation of the police officers involved in the case. Over the next four years, six detectives were convicted of civil rights violations.
Written by Olivia Errico, a student in the Graduate History program at Rutgers University-Camden.
See the Spanish version of this page