1954: Casa del Carmen Established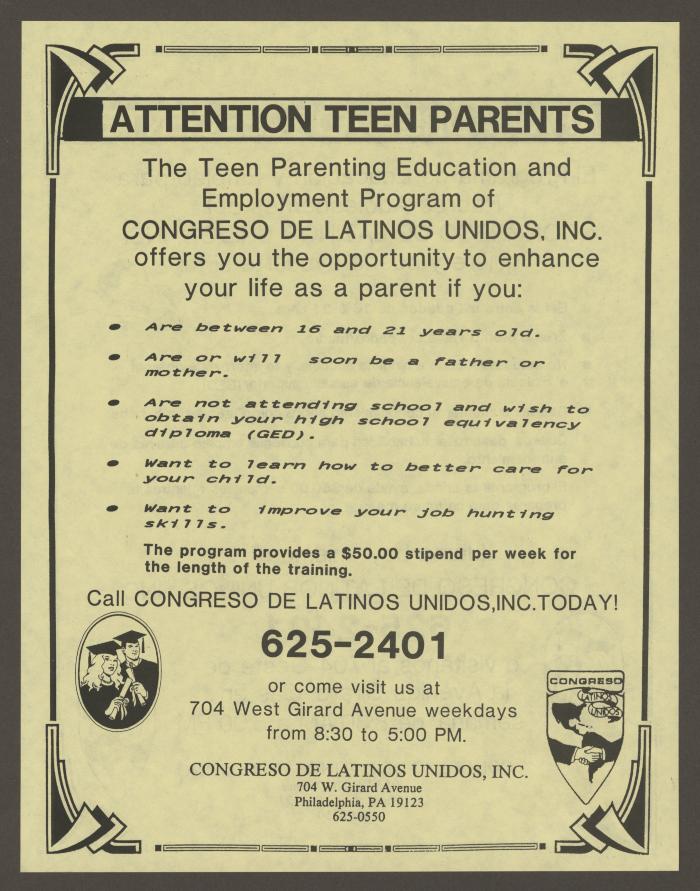 Casa del Carmen offers many family-oriented programs, including childcare and counseling for those struggling economically. This flyer advertises a Teen Parent Education and Employment Program offered by Congresos de Latinos Unidos, an organization that similarly focuses on the Latino community.
Image from the Historical Society of Pennsylvania.
Casa del Carmen was established by the Archdiocese of Philadelphia in 1954 as an extension of the programs offered by the Catholic Social Services (CSS). Casa del Carmen serves as a preschool academy for the Latino community, and doubles as a bicultural family service center. The academy offers a bilingual educational space for children, while also providing low-income families with access to counseling, childcare services, and food banks. It is one of seven CSS family service centers located throughout Pennsylvania.
Casa del Carmen is located in North Philadelphia. The organization was created in response to the growing Latino community of North Philadelphia in the mid-twentieth century. Many Hispanic families were struggling economically and socially in their new homes, and Casa del Carmen was created specifically with these families in mind. The resources offered by the organization focus on the growth and health of Latino children and their families. Counseling and family support services are offered, staffed by bilingual therapists; summer camp and afterschool programs for Latino children and youth are provided, as well as a day care program for toddlers that provides low-income households with affordable childcare.
Recognizing the importance of family within the Latino community, Casa del Carmen and the CSS work hard to ensure that the families they work with have access to food, education, and economic assistance. Sixty-five years after its creation, Casa del Carmen continues to advocate for the Latino community of Philadelphia.
Written by McKenna Britton, a public historian living and learning in Philadelphia.
See the Spanish version of this page here.
For more context on this event, see the Culture page.