Notice
: Trying to access array offset on value of type null in
/var/www/omeka-s/vendor/doctrine/annotations/lib/Doctrine/Common/Annotations/DocParser.php
on line
995
1912: La Milagrosa Church Moves to Spring Garden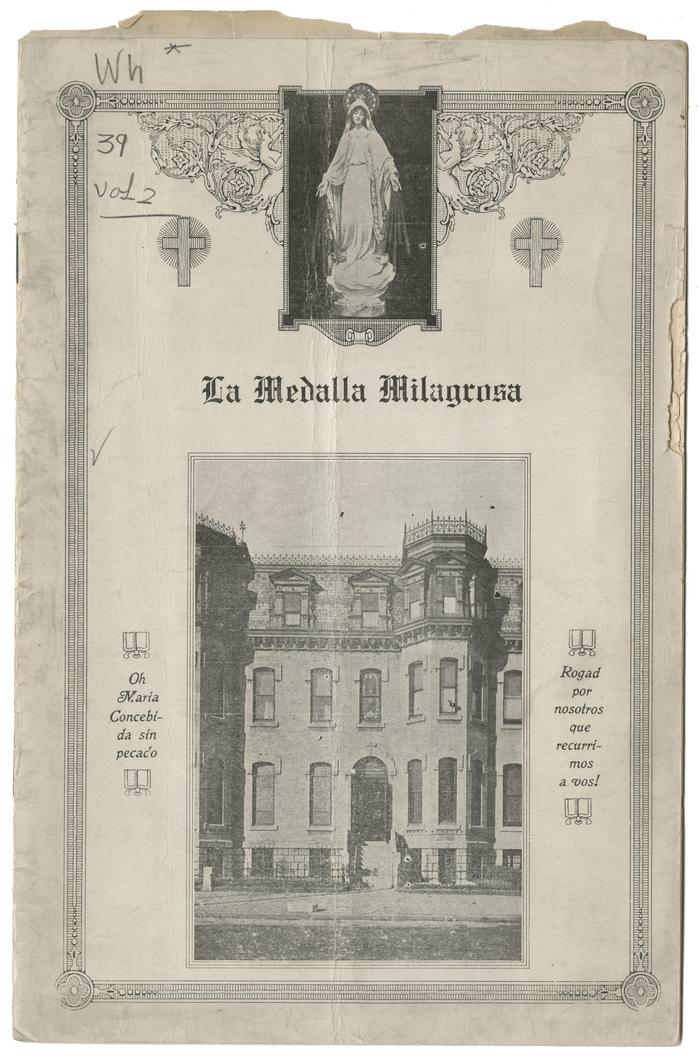 1915 bulletin from the Capilla Católica Hispana de la Medalla Milagrosa (Spanish Chapel of Our Lady of the Miraculous Medal)
Image from the Historical Society of Pennsylvania.
"La Milagrosa," or as it was formally known, "Capilla Católica Hispana de la Medalla Milagrosa" (which translates to "Our Lady of the Miraculous Medal") is a Catholic congregation made up of a predominantly Puerto Rican community that dates back to the early 1900s. In 1912, with the assistance of St. Katherine Drexel (1858-1955), the congregation purchased a townhouse at 19th and Spring Garden streets. They would continue worshipping in Spring Garden for an entire century.
La Milagrosa Catholic Church was the first congregation in Philadelphia to offer Mass services entirely in Spanish. Before moving to Spring Garden, the congregation would gather at a small school building on 4th Street. As the Puerto Rican Catholic community of La Milagrosa continued to grow, the building became much too small. After moving to their new location in Spring Garden, La Milagrosa served as a hub for the Latino community. With a new, larger location, La Milagrosa was able to provide more services for their congregants. Many Latino families moved to the Spring Garden neighborhood, following their congregation's example, and soon the church began offering English classes, assistance with employment opportunities, and a safe space for the Latino community of Philadelphia. Members of the community called the church the "Plymouth Rock" of the Latino community in Philadelphia.
A lack of funding forced La Milagrosa to close its doors in June of 2013. The congregation had been worshipping and working together to support and grow the Latino community in Spring Garden for nearly 100 years.
Written by McKenna Britton, a public historian living and learning in Philadelphia.
See the Spanish version of this page here.
For more context on this event, see the Culture page.
Further Resources
Discover the story of how La Milagrosa became a "Beacon of Hope" for the Latino community in Philadelphia.
Explore HSP's digitized church bulletin from La Milagrosa in 1915.
Oral History Connection: What church did you attend and how often? "La Milagrosa, St. Boniface, and Saint Peter and Pauls...La Milagrosa: spiritual outings, alboradas. And the reason I went there was because alot of my friends went there." (Tape 1951-A)
Notice
: Trying to access array offset on value of type null in
/var/www/omeka-s/vendor/doctrine/annotations/lib/Doctrine/Common/Annotations/DocParser.php
on line
995
Notice
: Trying to access array offset on value of type null in
/var/www/omeka-s/vendor/doctrine/annotations/lib/Doctrine/Common/Annotations/DocParser.php
on line
995
Notice
: Trying to access array offset on value of type null in
/var/www/omeka-s/vendor/doctrine/annotations/lib/Doctrine/Common/Annotations/DocParser.php
on line
995