1960s & 1970s: Puerto Rican Cultural Festivals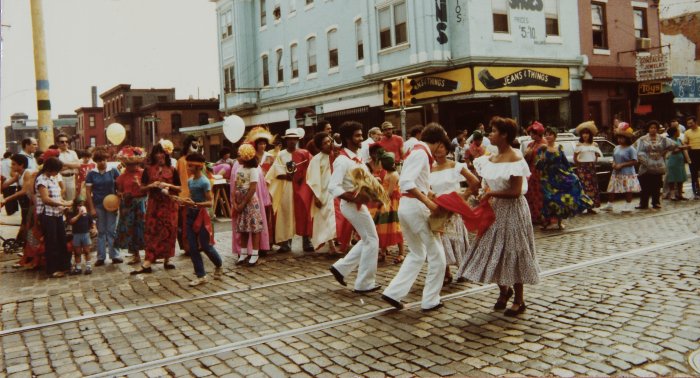 Image from the Historical Society of Pennsylvania
Two years after its own founding, CONCILIO, The Council of Spanish Speaking Organizations of Philadelphia, hosted the first Puerto Rican Week Festival, or Festival Puertorriqueno Filadelfia in 1964. As the Puerto Rican community of Philadelphia grew, CONCILIO turned some of its focus toward the preservation of the migrants' native language and cultural heritage. Born of the need for celebration of the island's culture, the festival has developed parallel to the community it celebrates. In 1978, the Festival Puertorriqueno Filadelfia had become an entity so large that it became a subsidiary corporation, or daughter company, to its host organization, CONCILIO. 1987 is the year that marked the largest turnout for the festival to date–a number that has continue to grow into the 21st century.
It is worth mentioning that the reality in Philadelphia mirrors the national recognition of the presence and influence of the growing Puerto Rican and Latin communities. In 1968 President Lyndon Johnson started the observation of the Hispanic Heritage Week. Then, in 1988, under President Ronald Reagan expanded it to cover a 30-day period starting on September 15 and ending on October 15.
In 2019, fifty-five years after the first festival, this tradition has become an annual event in Philadelphia. Philadelphians come together every year to celebrate Puerto Rican Day at the end of September, and a week of festivities follows, including a parade, a banquet, a pageant, a variety of performances and speeches, and more.
Written by McKenna Britton, a public historian living and learning in Philadelphia.
See the Spanish version of this page here.
For more context on this event, see the Culture page.
Art: Community Feedback Connections: Lucecita
Leity Rodriguez Largo Response: "I imagine it's a poster for a festival...It's striking."
Further Resources