1940-45: 72,000 Puerto Ricans Serve During WWII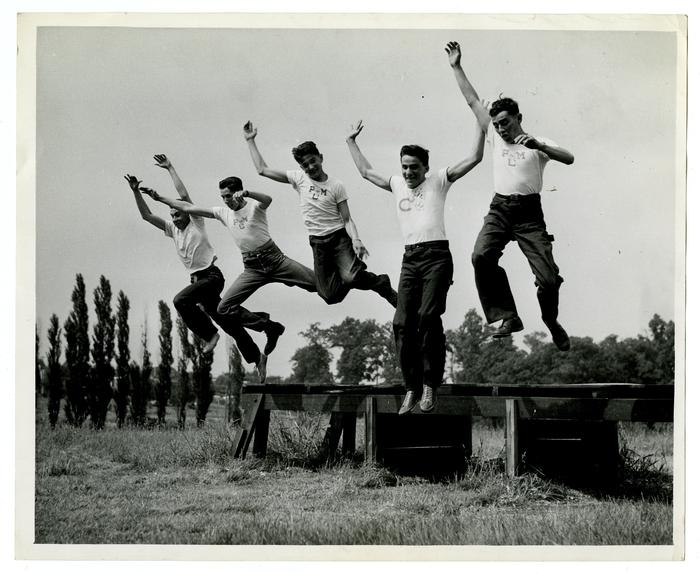 Image from the Historical Society of Pennsylvania
After the Jones Act was passed in 1917, granting Puerto Ricans American citizenship, it is estimated that 20,000 Puerto Ricans served in the U.S. military to fight in World War I. It is no surprise, then, that thousands of Puerto Ricans volunteered to serve the United States when the Second World War broke out decades later. An estimated 72,000 Puerto Ricans fought alongside their fellow American citizens in the Second World War.
Many of these soldiers served in the Army's 65th Infantry Regiment, an all-volunteer Hispanic unit that consisted largely of Puerto Ricans, a characteristic that garnered the regiment's nickname, The Borinqueneers (Borinquen is the Taino name for Puerto Rico and means "Land of the Valiant Lord"). Members of the 65th were sent to guard the Panama Canal in 1943 before being transferred to France in 1944, where the regiment fought in various battles, including the Battle of Naple-Fogis and the Battle of Rome-Arno.
Puerto Rico and its people played a large role in World War II. Aside from the work of the 65th Regiment, the island itself served as host to various airfields—Borinquen Field, Isla Grande Naval Air Station, Losey Field, and Vega Baja Auxiliary Airdome—and a naval base, called Roosevelt Roads. In 1944, the Army Nurse Corps recruited 200 Puerto Rican women as nurses. The promotion of Navy Admiral Horacio Rivero to the rank of admiral marked a first in the history of the Navy, Rivero being the first Hispanic individual to achieve such a ranking.
Written by McKenna Britton, a public historian living and learning in Philadelphia.
See the Spanish version of this page here.
For more context on this event, see the Politics page.
Further Resources
Oral History Connection: How was Puerto Rico's reaction to the Second World War? "Oh boy! Look, when I enlisted in 1939, during the first mandatory draft everyone in Puerto Rico was very happy. Things were so bad, everyone wanted to be in the army, you know. It was like it was Christmas, as though it were a party. And I remember, and they would take me to the army, man I volunteered to work at the base. I enlisted; I went to the base...But we never left Puerto Rico. I was an interpreter for four years on the base of Punta Borinquen in Puerto Rico." (Tape 1980-A)