Puerto Rican Political Power in Philadelphia: A Historical Primer
Israel ("Izzy") Colón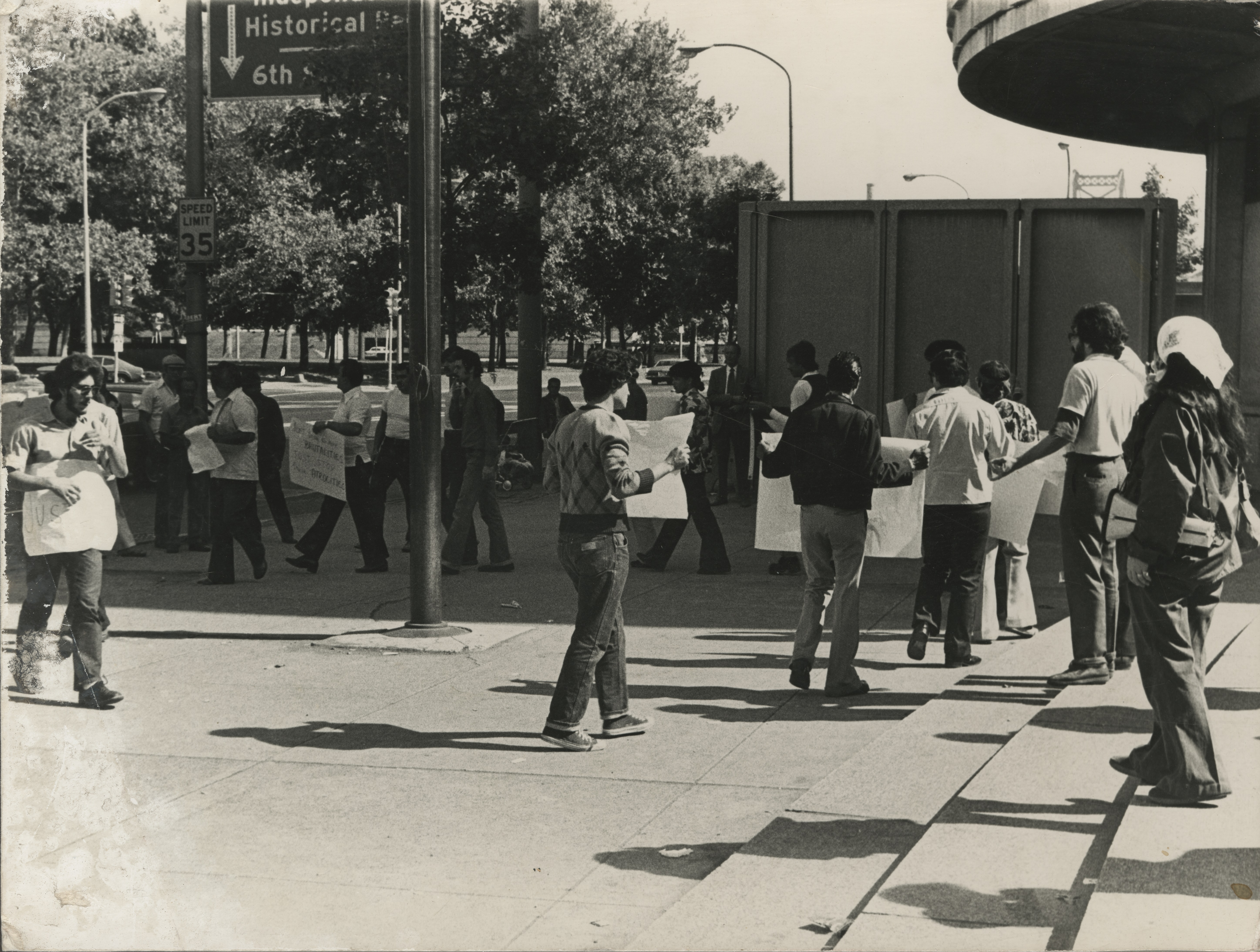 Puerto Rican demonstrators protest near 6th Street
Image from Taller Puertorriqueño's archives
To improve housing, education, and economic opportunity, neighbors often come together to lobby for these needs and provide new opportunities for their families. The importance of having a political voice in the democratic systems of government, therefore, cannot be underestimated. Political power has always been a vital part of newcomers' efforts to influence or shape the policies that impact their everyday lives.
In 1969, Germán Quiles was the first Puerto Rican elected as a Democrat to the 180th district of Pennsylvania House of Representatives. He served one term. Today in 2019 Latinos in Philadelphia hold one of City Council's 17 seats (City Councilwoman María Quiñones-Sánchez) and 2 of Philadelphia's 35 state legislative offices (State Rep Angel Cruz in the 180th District and State Rep Danilo Burgos representing the 197th District). In this year's 2019 primary alone an unprecedented 5 Latinas(o) competed for 5 City Council At Large seats, including Deja Lynn Alvarez, the first Latina transgendered woman to run for citywide office.
Over the last four decades scores of Puerto Ricans have run for legislative, row, and committee level party and judicial offices. Prominent among them were Angel L. Ortiz who served almost two decades as a member of the City legislature followed by Juan Ramos in 2004. During the eighties and nineties, Ralph Acosta, & Benjamín Ramos were elected to the city's first Latino-majority 180th legislative district. Since 2010 José Miranda, and Leslie Acosta have taken turns representing a second Latino-majority legislative district (197th HD). The presence of Latinos(a) elected to the judicial branches of government also has grown, with such notables as judges Nelson Díaz, Nitza Quiñones-Alejandro, Nazario Jimenez, Teresa Sarmina, and Mia Roberts Perez to name a few.
These achievements are reflective of a maturing community. The integration of Puerto Rican voices throughout state and local government offices has in fact led to an influx of public and private investments in housing and economic resources, social service and community development funding, and to a lesser degree, viable educational reform. It could be argued that while disproportionate levels of poverty continue to plague the Puerto Rican neighborhoods of this city, a newer generation of Puerto Rican political representation has served to mitigate this community's economic plight.
Electoral power, however, doesn't occur in a vacuum. As in the case of other immigrants in our city, it took decades for the Puerto Rican community to organize the infrastructure necessary to politically partake in a host society chronicled as being hostile and viewing Puerto Ricans as undesirable foreigners. To better understand how the Puerto Rican elected leadership emerged, a historical context is necessary.
Historian Dr. Victor Vásquez points out how Puerto Ricans in Philadelphia were initially dispersed occupying various neighborhoods throughout the city. But as their numbers grew and local discriminatory market forces took effect (i.e. housing gentrification, bank redlining), a more concentrated space was occupied, geographically described as Eastern North Philadelphia. By the 1970's Anthropologist Judith Goode observes that "… Puerto Ricans began to move between Blacks in the west and Whites in the east …. serving as a buffer to protect the color line." Puerto Ricans learned quickly that Philadelphia, "the city of brotherly love," was also a city of racially segregated neighborhoods.
This "clustering" of the Puerto Rican population into neighborhoods already suffering the effects created by the 1970's economic recession, factory closings and an older housing infrastructure, posed new challenges. For Puerto Ricans this meant increased levels of joblessness, poverty and racially-based hostility from their host neighbors. Notwithstanding these conditions, the spatial concentration of this population provided a well-defined geography for organizing and led to a pivotal by-product: the growth of a collective (cultural) identity embraced by an energized younger generation of civically engaged Puerto Ricans.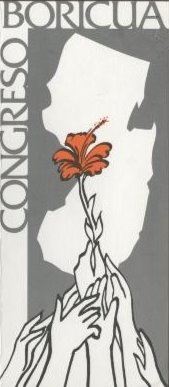 Congreso Boricua pamphlet, 1981
Images from the Historical Society of Pennsylvania
Institutions including churches, social clubs, and bodegas flourished. Non-profit social service organizations emerged. El Concilio, ASPIRA, El Taller Puertorriqueño, APM were among the institutions formed in the 1960's and 70's. Modes of communication within the Latino community began to diversify. The more establishment-oriented news weeklies like La Actualidad were supplemented with alternative newspapers such as the Puerto Rican-owned El Enfoque Comunal (The FOCUS). The Enfoque, under the able leadership of Efraín Roche, provided for the first time a consistent weekly platform for progressive political voices.
Broadly speaking, the Puerto Rican community was not immune to the influences of the political climate of the 1960s and 70s. The country at the time witnessed masses of young people defying the status quo as they protested the Vietnam War, racism, and the disastrous effects of unfettered capitalism. The Black Power and Puerto Rico Independence movements, as examples, helped inform the formation of more radicalized sectors in the local Puerto Rican community.
Historians Dr. Ariel Arnau and Dr. Carmen Whelan highlight the significance and pivotal role these political movements played in bringing city-wide attention to the plight of Philly's Puerto Rican diaspora. The Young Lords Party (YLP), the Puerto Rican Alliance (PRA), the Puerto Rican Socialist Party (PSP) and the National Puerto Rican Congress (NPRC) were movement-oriented organizations led by a younger generation of Puerto Ricans who had no qualms about employing confrontational tactics to achieve milestones never before realized. These organizations represented a force against racism, police brutality, housing and employment discrimination. They defended multi-culturalism, bilingual/bicultural education and called for greater political representation and accountability. By the late eighties, the Puerto Rican "old guard" leadership and its more conservative incremental approach to social change, was dissipating.
Collectively, these movements gave rise to a more progressive view of electoral politics within the Philadelphia Puerto Rican diaspora. A younger leadership, most raised or born in the US, seemed better prepared to address the complexity and nuances of local politics and its party machinery. They launched voter registration campaigns and organized rallies against incumbent elected officials and demanded greater accountability. Latino voting rights groups were formed during each decennial census (from 1980 to the present) to legally challenge state and local officials by demanding the creation of Latino legislative districts. The redesigned Philadelphia 180th and the 197th state legislative districts were direct results of those political struggles. The 180th in particular served as an early pathway for the election of Ralph Acosta and Benjamín Ramos, both former members of the Puerto Rican Alliance.
In 1983, another co-founder of the Puerto Rican Alliance and NPRC member Angel L. Ortiz ran a competitive Council-at-Large race as part of a diverse multi-cultural coalition that resulted in the election of the City's first African American Mayor, W. Wilson Goode. Ortiz was subsequently elected in 1985 and was the first Puerto Rican to join the ranks of the City Council of Philadelphia. In 2004, former Young Lords member Juan Ramos replaced Ortiz and served one term. Then in 2007, María Quiñones-Sánchez, younger than the earlier crop of seventies activists, breaks another barrier in city politics by becoming the first Puerto Rican woman to be elected to a City Council district seat in a district (7CD) with the highest concentration of Puerto Rican residents in the entire City.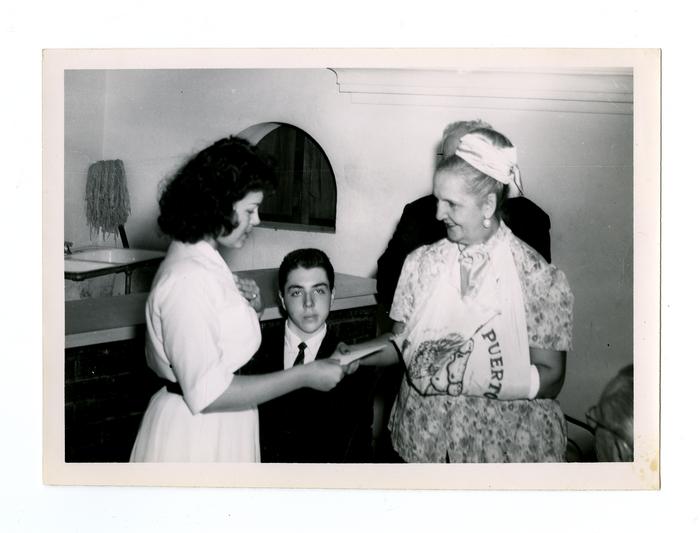 San Juan mayor Felisa Rincón de Gautier (1897-1994) meets Puerto Rican young adults while she visits Philadelphia.
Image from the Historical Society of Pennsylvania
There is much to learn from this migrant community and the many ways it mirrors the struggles of other immigrant populations in their quest to shape their political power in the city.
Puerto Rican migrants are unique and different from most immigrants in the US in that: 1) they migrated from a nation characterized by a legacy of exploitation under US colonial rule and 2) US Citizenship was imposed on them by an act of Congress (1917) that didn't provide for equal representation under the law. This relationship has created a confusing dichotomy in how Puerto Rico and its inhabitants are perceived and treated by the American public and its policymakers. For economic investment purposes, Puerto Rico is treated as a US territory -- In other cases, when justifying the reductions in civil rights and benefits for example, the island is treated as a foreign nation.
Despite the endemic unjust relationship of US-Puerto Rico geopolitics, the Philadelphia Puerto Rican community has persevered. The history of its political growth demonstrates an evident nexus between the growth of popular/grassroots movement politics and the election of a Puerto Rican elected leadership -- A connection that establishes a trajectory of community struggles without which any semblance of local political power would have been possible.
Author Biography
Israel "Izzy" Colon has over forty years of experience working in both city government and the public sector. His professional history includes leadership positions with ASPIRA, the American Friends Service Committee, the Hunting Park Community Development Corporation, the School District of Philadelphia, the National League of Cities and the City Council of Philadelphia where he served for sixteen years, as Chief of Staff to former Philadelphia Councilman Angel Ortiz. Colon also led the Eastern North Philadelphia Youth Services (ENPYS) Coalition, a collaborative of 16 organizations designed to develop strategies to engage youth in leadership development and civic engagement programs. Colon earned a BA in Spanish Literature with a minor in Latin American Studies from Binghamton University. He was the recipient of a National Urban Fellowship Award while pursuing his graduate degree at Bucknell University.
Colon is a widower; he was married to Lydia Gonzalez Colon for forty years. Together they raised 4 children and are the proud grandparents of 11 grandchildren.