Historical Economy of Puerto Ricans in Philadelphia in the 20th Century
Ariel Vazquez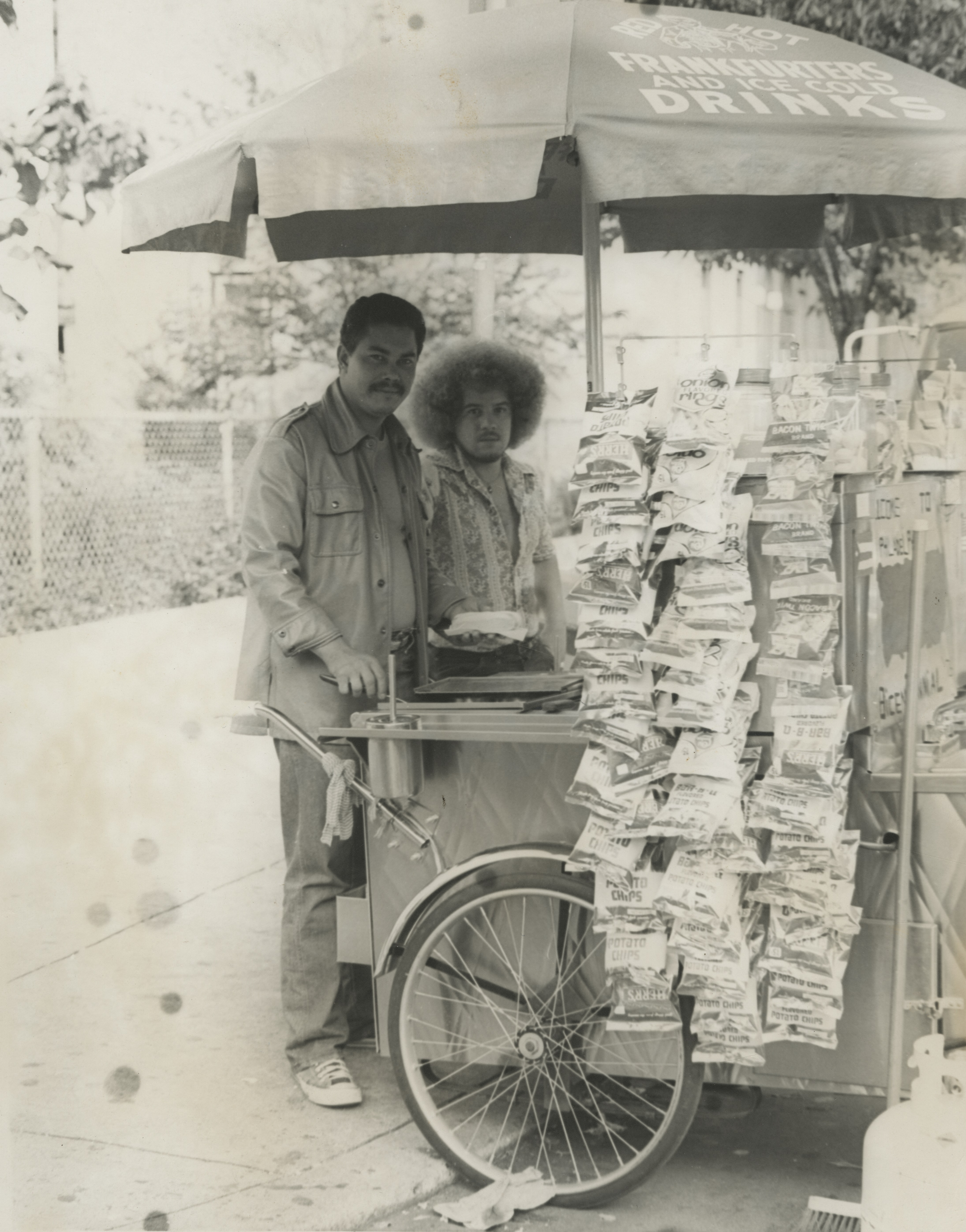 Two men stand together at a street vendor cart
Image from Taller Puertorriqueño's archives
Economics has always been a prime shaper of neighborhoods as financial opportunity or strain literally move people. The presence of Puerto Ricans in Philadelphia goes far back to the 1800s when trade linked the island to the city. A migration of Puerto Rican's pro-independence exiles, organizers, merchants, laborers, students, and others lived in Philadelphia in the late 1800s and early 1900s. However, the first substantial influx of Puerto Rican migrants was around 1950 through 1970, also known as the first Puerto Rican Diaspora. Many Puerto Ricans came to Philadelphia for economic opportunity or to escape political persecution on the island. Roughly 60,000 Puerto Ricans came to the mainland to work in different industries, mostly agriculture and low-skilled manufacturing. These waves of migrants paved the way to the presently existing enclave of the Puerto Rican/Latino Communities in Philadelphia.
By the middle of the 1800s, Spring Garden and the surrounding neighborhoods became the primary area for Spanish-speakers, particularly for Puerto Ricans. Many Puerto Ricans came to Philadelphia as contract laborers for the steel industry, the railroads, and agriculture. In the Spring Garden sector, they found work at the Baldwin Locomotive Works Company, which was the centerpiece of this industrial area. At the time, Baldwin was the largest manufacturer of train engines in the United States, and many of the machinists were Puerto Ricans.
The 1920 census data reflect an active community of Latinos in Spring Garden. This trend was due to the expansion in the number of boardinghouses catering to Spanish-surnamed men, and many who worked for cigar-making companies in the immediate vicinity or at the Baldwin Locomotive Works or Pennsylvania Railroad. The same record data also show an increase in women with Spanish-surnames working outside of the home and an increase in the establishment of lodgings for single women. As men went to war or found work in industries, women moved into low-paying administrative work as clerks and secretaries. The peak year of the arrival of Spanish-speaking migrants suggests that labor shortages also influenced migration. Eighty-five percent of the Spanish-speaking residents in 1920 had arrived in the U.S. between 1914 and 1919, with sixty-five percent having arrived between 1917 and 1919. Another area where a large concentration of Spanish-speakers lived was in Northern Liberties. The area had one of the largest textile industry campuses, though it employed a smaller section of the Puerto Rican working body.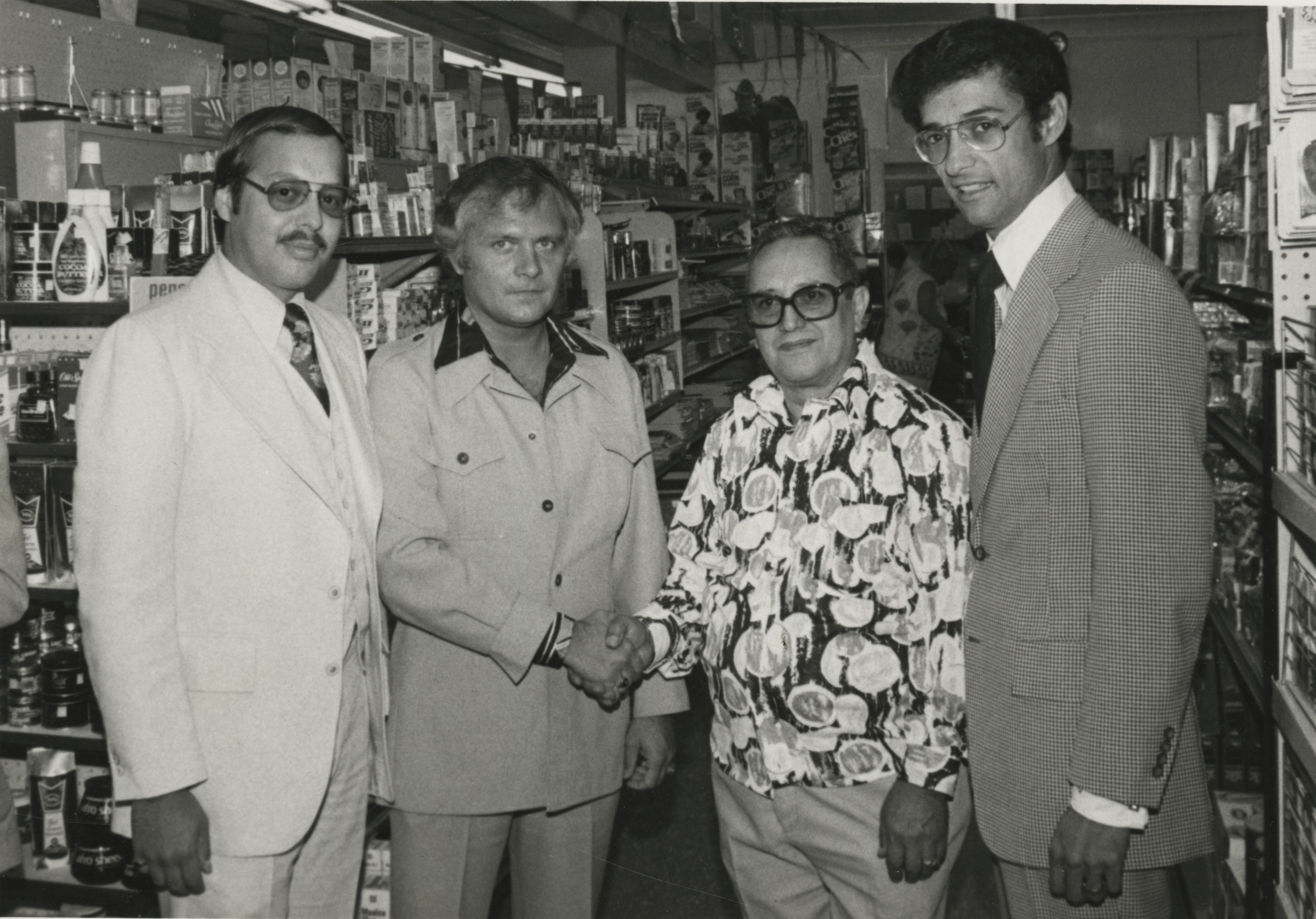 Spanish Merchant's Association shaking the hand of a client at the opening of his store
Image from the Historical Society of Pennsylvania
Between the 1920s and 1930s, Philadelphia's manufacturing employment declined at twice the national rate. A survey by the Bureau of Labor Statistics on the eve of the stock market crash in 1929 found a 10 percent unemployment rate in the city. The Great Depression put further stress on the city and had a significant impact on the migration of Spanish-speakers to Philadelphia. Despite the dire conditions, the Spanish-speaking population of Philadelphia continued to grow during the Depression. At this time, the decline of the cigar industry in Tampa, Florida, encouraged many Puerto Ricans to migrate to Philadelphia and New York. Despite national declines in the industry, Philadelphia was still employing laborers in the cigar-making industry through the 1950s. Gradually, Puerto Ricans became the larger group of Spanish-speakers by 1945. Despite being one of the largest communities of Spanish-speakers, Puerto Ricans had no economic or political representation.
From the 1940s to the early 1960s, tens of thousands of Puerto Ricans became seasonal workers in New Jersey and Pennsylvania, many to pick blueberries. Most migrants came from rural island areas, where they had worked in agricultural processing of sugar, coffee, or tobacco. With the immigration reforms of the 1960s, the U.S. permitted and incentivized immigration policies that welcome thousands of Puerto Ricans to work in industrial jobs in the U.S. as previously explained. This economic opportunity was fueled by what was called the "white-flight" when thousands of whites left the urban centers for a more suburban life. The Philadelphia Puerto Rican population proliferated due to the labor shortage during these times.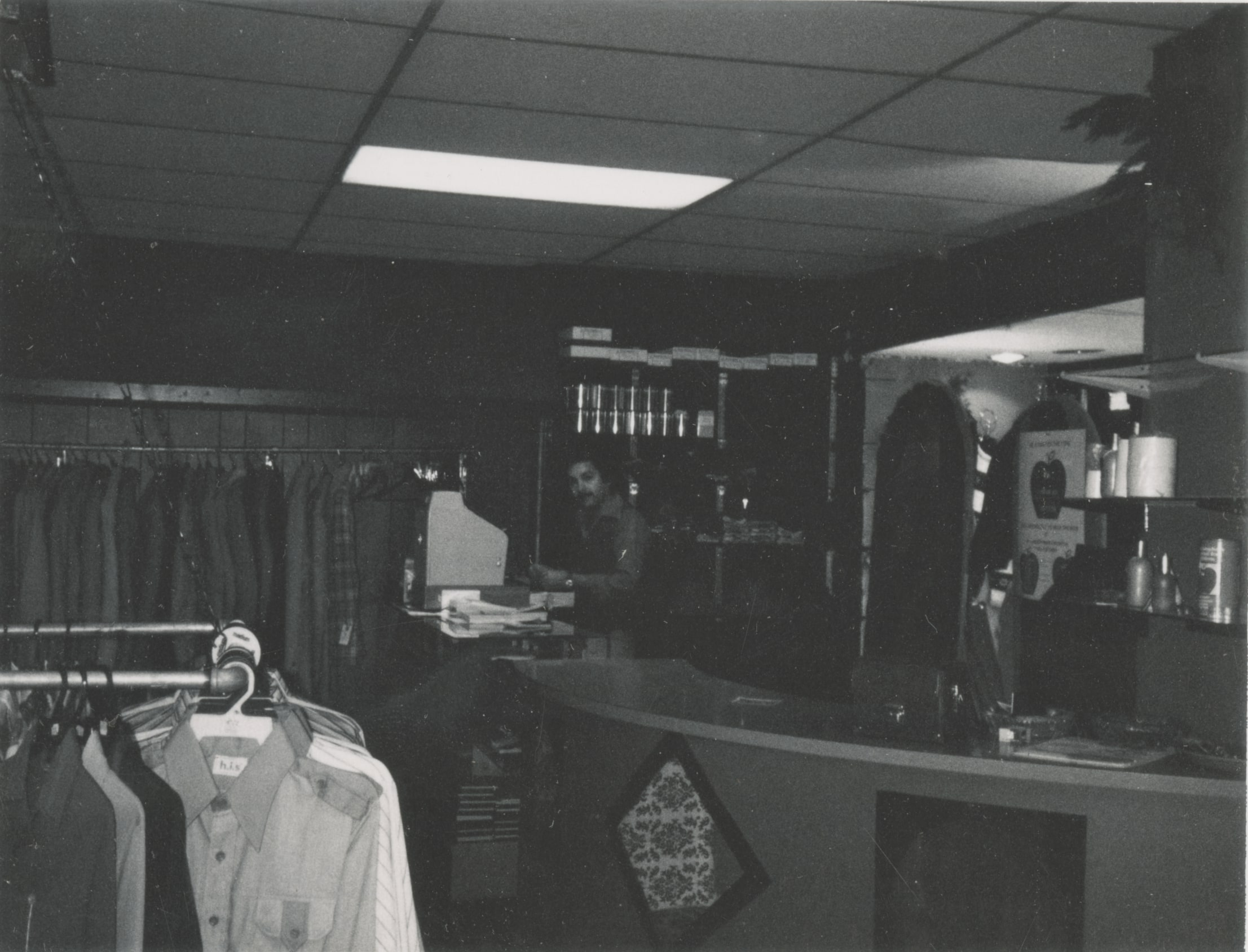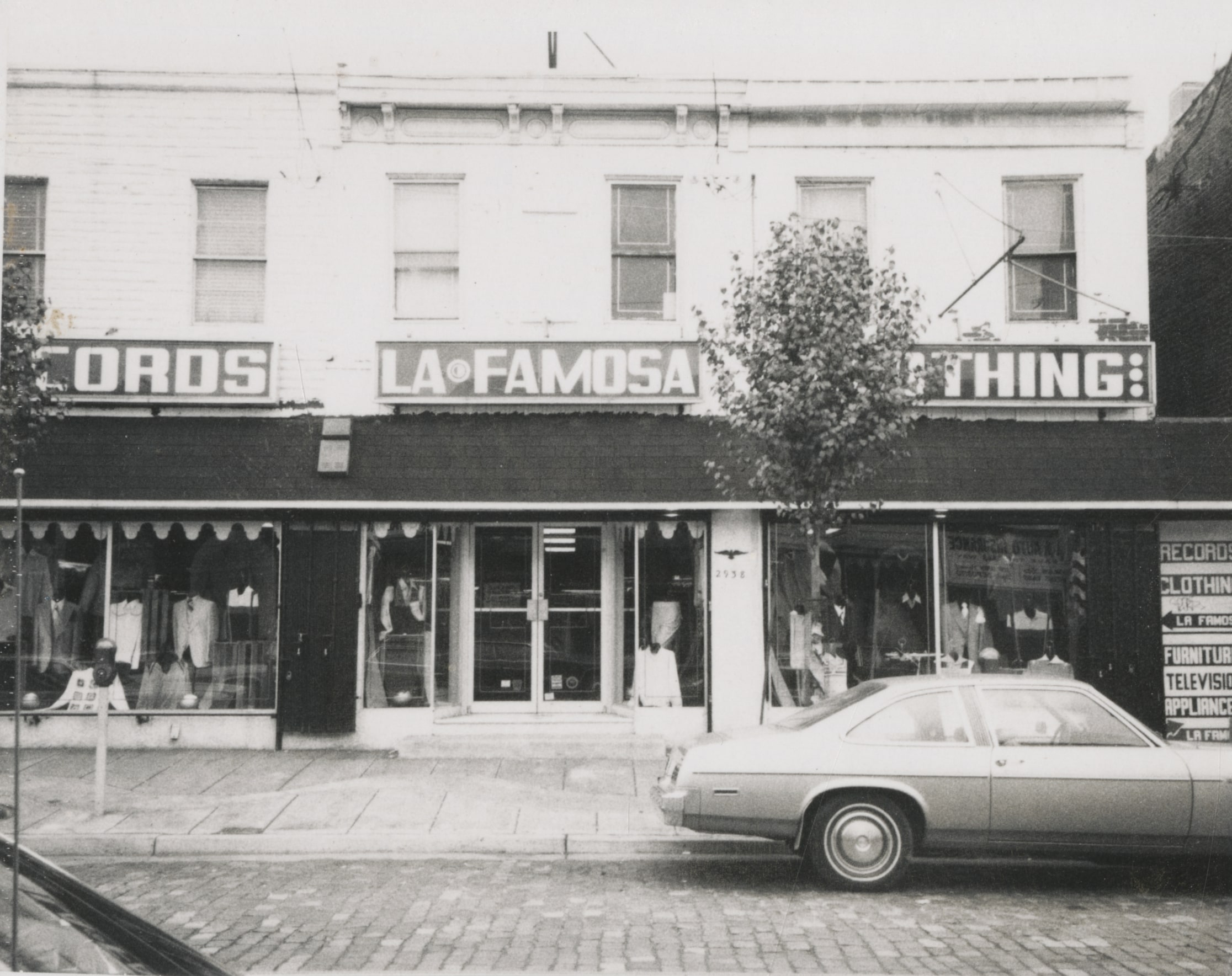 Exterior and interior of La Famosa, a Puerto-Rican owned clothing store
Image from the Historical Society of Pennsylvania
Victor Vázquez-Hernández, in his 2005 article, describes how the event of The Spring Garden Riot of 1953 brought to the spotlight this community. The riot began when a group of white men decided to fight a group of Puerto Ricans at a Puerto Rican bar in the neighborhood. This triggered retaliation against white-owned business in the area. The fight spilled outside and grew to include approximately around 300 hundred residents and more than 70 police in a two-hour conflict. The incident prompted the city government, through the Philadelphia Commission of Human Relations (PCHR), to conduct its first study of Philadelphia's Puerto Rican Community. The city turned to prominent Puerto Ricans to help facilitate the research. Among them was José DeCelis, perhaps Philadelphia's most prominent Puerto Rican community organizer of that time. DeCelis was a trained dentist, president of the locally organized Latin American Club, chairman of the Health and Welfare Council's Committee of Puerto Rican Affairs, and the first Puerto Rican to graduate from Temple University. Through his participation in the 1954 PCHR study, DeCelis was able to mold policy that would affect Puerto Rican communities in Philadelphia for years to come. Some of these policies included the creation of the Spanish Merchant Association and other organizations serving the Puerto Rican community.
After the 1953 riot, many Puerto Ricans relocated to North Philadelphia, near Fifth Street and Lehigh Avenue. The result of this relocation was the emergence of a commercial business corridor that allowed for the development of what is known as "El Bloque de Oro or "The Golden Block" retail area, eventually being recognized as the Golden Center. This transition from agricultural and low-skilled jobs to a more business and entrepreneurial economy allowed many Puerto Rican families to settle in the Fairhill and Kensington neighborhood.
Migration from the island continued to the region into the 1970s, even as it declined to other destinations, so that by 1973 the Puerto Rican population of Philadelphia was around 85,000. Organizations such as the Spanish Merchant Association provided services to many of the new business owners who were affected by language and cultural barriers and helped establish representation in the city economic sector. About 80 percent of the Puerto Rican population, however, still held blue-collar jobs. By the end of the 1970s, as described by Vázquez-Hernández the population of Puerto Ricans in Philadelphia, transformed from a "previously invisible" community to one that was visible, however politically fractured. There was no uniting political representation in those communities.
In the early 1980s, many Puerto Rican families relocated to North Philadelphia (particularly to Fairhill, Kensington, Juniata, and later Hunting Park) from neighborhoods like Spring Garden and Northern Liberties, due to the lack of work and gentrification. In these locations, they were able to expand their communities and create small businesses. As these communities became rooted in those areas, new organizations like HACE, Aspira, Taller Puertorriqueño, and Congreso de Latinos Unidos opened their doors with services catering directly to the Puerto Rican communities; giving many of these families a sense of belonging and the opportunity to retain their kids in their neighborhoods.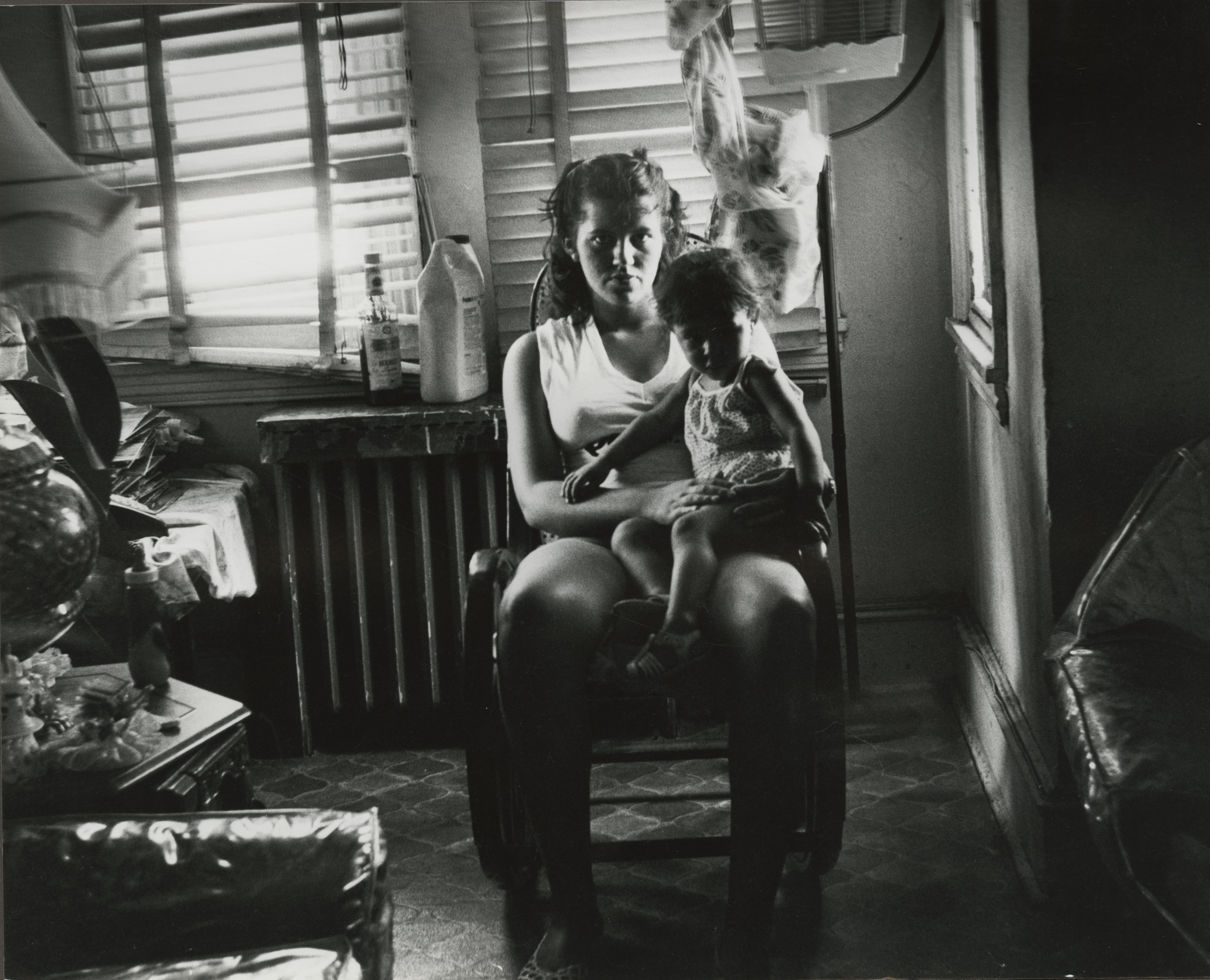 Puerto Rican mother and child suffer economically
Image from Taller Puertorriqueño's archives
But, during this decade, these communities felt the economic decline of the manufacturing industries that sustained their livelihoods. The remaining industries around Fairhill and Kensington started to close their doors or move elsewhere. This created an economic decline with the Puerto Rican unemployment growing exponentially, furthering the gap of economic inequality. Nevertheless, the communities in those neighborhoods are still there today, years later. Some of the businesses are striving for balance, some are still operational, and organizations like Norris Square Community Alliance (formerly Norris Square Association), HACE (formerly Hispanic Association of Contractors and Enterprises), Asociación Puertorriqueños en Marcha (APM), and Esperanza are still strong in the areas of community and economic advancement helping strengthen and develop the communities they were created to serve.
Author Biography
Ariel Vazquez is an architectural designer. He has a professional degree in Architecture from Drexel University and a Certificate in Advanced Architecture and Urbanism from the Berlage Institute in Rotterdam.
Vazquez is a member of the cooperative Posconflicto Laboratory, within a plan entitled Casa-Comuna, a project that would allow families in Guatemala to own a home. Other projects include: Architecture Disaster, in collaboration with Stuyvesant High School's StuyResearch program for the City of Sendai, Japan; a small art project called Buscando Visa Para Un Sueño; and Lost Lots, which allows the community of Fairhill to have a voice about the status-quo of empty lots and how they have affected the built environment.
Vazquez is currently a committee member for Zoning and Planning at South Kensington Community Partners and works as a project designer at Brawer and Hauptman Architects. He has been appointed by Major Kenney to be a commissioner on the Philadelphia Planning Commission, and serves as a lecturer at PennDesign Department of City and Regional Planning.
See the Spanish version of this page here.
Philly Immigration Stories: Economy
Various articles and ephemera from Yellow Seeds newspaper, published in Chinatown in the 1970s, can be accessed below.
These lesson plans, titled Mexican Labor at Bethlehem Steel, serve as a way for students to understand, connect, and critique issues surrounding early 20th-century and current Mexican immigration. Bethlehem Steel's recruitment of Mexican labor sheds light on early immigration laws, explores the changing role of Mexican laborers in the United States, and provides valuable perspective that allows students to better understand and assess contemporary Mexican immigration.
This audio file, titled Chinatown: Past and Present, is a recording of a panel discussion that took place in November 2012. Moderated by Kathryn Wilson, the panel included John William Chin, executive director of the Philadelphia Chinatown Development Corporation; Deborah Wei, the director of the Office of Multilingual Curriculum and Programs in the School District of Philadelphia; and Roseann Liu, PhD candidate at the University of Pennsylvania.
Related Timeline Events
Oral History Connections
Head over to the Oral Histories page to listen to the tape referenced below.
Tape 1956-A: Why did your parents migrate? "Better living facilities and what-not because it was bad in PR in those days..." Where did your father work in Puerto Rico? "He worked in the fields cutting cane."
"Every little penny I would give to my mother because we had very little."
Tape 1980-A: What were work conditions like in Puerto Rico? "Around that time in Puerto Rico, what one made – in Puerto Rico I made 3 pesos a day…chopping sugar cane."
And your father, where did he work? "My father? He was a farmer. He was also a laborer, he worked with sugar cane. He would plant and harvest sugar cane. He would go to the coffee estates. To bring us food, you know."
Do you remember the first stores that there were here? "The first Hispanic store that was here was Martini. It was Martini that was on 7th and Fairmount."
Tape 2007-A: When you worked and you lived with your mother, did you help her with the household expenses? "Yes, I always gave her money from my salary."
Art: Community Feedback Connections
Head over to the Art page to see the artworks and listen to the feedback referenced below.
Photographs: Susan Langmuir: "This lovely young woman and her child are trapped. It's very crowded, the space is encroaching on her..." (Image 1)
"This guy has a machete, and he has these incredibly big strong hands and strong arms...and I'm just assuming that he's been using that all his life..." (Image 2).
Further Resources
Arnau, Ariel. "The Evolution of Leadership within the Puerto Rican Community of Philadelphia, 1950s-1970s." Pennsylvania Magazine of History and Biography. Vol 136, No 1 (January 2012): 53-81.
Casellas, Marisa. El Barrio: Latino Relationships in North Philadelphia and Impacts on Puerto Rican Businesses. Philadelphia: University of Pennsylvania, 2007.
Ribeiro, Alyssa. "Puerto Rican Migration." Encyclopedia of Greater Philadelphia. Rutgers University, 2016.
Vázquez, Victor. "Tobacco, Trains, and Textiles: Philadelphia's Early Spanish Speaking Enclaves, 1920-1936." Pennsylvania Legacies. Vol 3, No 2 (November 2003): 12-15.
Whalen, Carmen. From Puerto Rico to Philadelphia: Puerto Rican Workers and Postwar Economies. Philadelphia: Temple University Press, 2001.
Whalen, Carmen. El Viaje: Puerto Ricans of Philadelphia. Charleston: Arcadia Publishers, 2006.